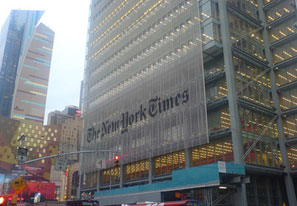 It happens every spring. As preseason training ends, managers of battered ball teams issue an announcement to their fans. It's always upbeat, and it always tends to depart from fact: "We're a lot better than we look. We're going to surprise a lot of people this year." Knowledgeable observers roll their eyes; so do savvy players.
In the same managerial spirit, New York Times executive editor Dean Baquet recently sent a memo to the staff. In it he acknowledged dismissals and buyouts, masthead shakeups, and rumors of the paper's shaky finances. But he urged, "Don't allow the turmoil in the news business to make you forget just how good we are, and that we are here to break big stories and ask hard questions of the powerful." And he added: "Our coverage remains fabulous—and our goals for the coming year are very clear." These include creating an "audience development department . . . to expose as many people as possible to our finest work, and to connect us to readers in new and deeper ways."
Apparently, those ways include a sedulous imitation of the tabloids—dailies the Times management once held in disdain. Take, for example, last month's Most Popular stories, as tallied on the Times website. True, more than a quarter of the Top 20 concerned the suicidal Alpine plane crash, though the news was largely conjectural. Among them: "Germanwings Pilot Andreas Lubitz Sought Treatment for Vision Problems Before Crash, Authorities Say"; "Co-Pilot in Germanwings Crash Hid Mental Illness From Employer, Authorities Say"; and "Fatal Descent was 'Deliberate,' French Authorities Say." But other popular stories included this need-to-know narrative: "Monica Lewinsky is Back, but This Time It's on Her Terms." In case you were wondering: "Once vilified as a 'predatory' White House Intern, Ms. Lewinsky has re-emerged, taking on the fight against cyberbullying."
The paper's ever-reliable health features also figured prominently: "Wet Wipes Box Says Flush, New York's' Sewer System Says Don't"; "The Myth of High Protein Diets"; and "One Twin Exercises, the Other Doesn't." And trendy TV features remained hot. "Trevor Noah to Succeed Jon Stewart on 'The Daily Show'"; "Sophie Turner and Maisle Williams Have Grown Up on 'Game of Thrones'"; "Leonardo DiCaprio Builds an Eco-Resort." Two headlines inventively combined show business and hard news: "Robert Durst of HBO's 'The Jinx' Says He 'Killed Them All,'" and "Angelina Jolie Pitt: Diary of a Surgery."
Predictably, sports held down important spots on the list: "Wisconsin Ends Kentucky's Undefeated Streak" and "He's the Last Boxer to Beat Floyd Mayweather Jr., and He So Regrets It," a human-interest feature about a retired Bulgarian pugilist.
In the last several days, hard news elbowed its way into the Times hit parade. A story on the imminent pact with Iran made it into the top 20: "G.O.P.'s Israel Support Deepens as Political Contributions Shift." In a nod to Jewish Conspiracy theorists, it added, "Republicans are more fervently pro-Israel than ever, partly a result of ideology, but also a product of a surge in campaign spending on their behalf by a small group of wealthy donors." As for the Democrats, one story sufficed: "This Woman's Job is to Recast Hillary Clinton's Image."
The Times's appeal to its dwindling advertisers states that its "world-class journalism" is delivered to "the world's most influential audiences" through "print, mobile, digital, social platforms and high-level live events," all of which present "unparalleled advertising and sponsorship opportunities for brands looking to reach a high-quality consumer and alignment with best-in-class content."
Given these reassurances, fans of the paper can stop fretting. The New York Times is a lot better than it looks. It's going to surprise a lot of people this year.