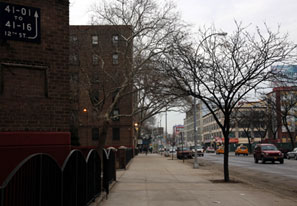 New mayors, like new presidents, often start their administrations with signal actions. New York City mayor Bill de Blasio has had several, including limiting expansion of some charter schools and pushing to raise taxes on the wealthy to pay for expanded pre-K education. On housing policy, about which the new mayor professes to be "deadly serious," he has pressured the redeveloper of the derelict former Domino Sugar refinery on the Brooklyn waterfront to increase—from 20 percent to 30 percent—the number of apartments set aside at below-market prices. As leverage, de Blasio threatened to halt the previously approved $1.5 billion, 2,000-plus unit project. He wants to add 200,000 "affordable" units to the city's 3.3 million housing units, and he promises by May 1 to release a plan for doing so. His stance on the Domino Sugar redevelopment suggests that de Blasio will focus on large developers and large buildings, using "inclusionary zoning," which allows taller and denser projects, so long as a percentage of apartments remain "affordable."
With 2 million rental units and 1 million owner-occupied units, New York boasts a wide range of housing. But the city also has more housing units buffered from market pricing than any other American city. This includes nearly 1 million units with rents "stabilized" by the city's Rent Stabilization Guidelines Board and nearly 300,000 units of public and subsidized housing, either owned and operated by the city's housing authority or paid for through government-issued vouchers. These market distortions have led to wealthy households living in spacious, rent-stabilized apartments, while newcomers squeeze into expensive, closet-sized dwellings. It's not clear which of those problems de Blasio wants to solve, or how extracting concessions from big developers will lead to new housing construction on the scale that the mayor has promised. The mayor's proposal will say much about whether his fundamental interest lies in engineering an income mix in pricey new buildings or in increasing the stock of less expensive housing, no matter where in the city it might be.
An argument can be made that New York City does not actually face an affordable-housing crisis—at least, not the one that de Blasio has set out to address. The Department of Housing and Urban Development (HUD) suggests that households should pay no more than one-third of their income for rent or mortgage expenses. According to that standard, New York looks pretty good. New York University's Furman Center for Real Estate and Urban Policy finds that the median monthly rent for the city is $1,191, and that the median New York renter paid 32.5 percent of income in rent, up only modestly from 30.5 percent in 2006. To put this in perspective, HUD requires rent-subsidized tenants to put 30 percent of their income toward rent.
In currently fashionable neighborhoods, like Brooklyn's Bushwick, rents for newcomers are now higher than the city average; the neighborhood's low-income households are paying 50 percent of their cash income in rent. These figures can be deceptive, however. Most of the city's low-income households have access to non-cash income, such as food stamps or the Earned Income Tax Credit. They have more to spend than their nominal income reflects. The Furman data is based on Census queries, which ask only about income, not spending.
Poverty, of course, is not necessarily a permanent condition. Even through the prism of the "rent-burdened" household, the housing crisis can be overstated. Other cities report a large number of "rent-burdened households"—Chicago's 44 percent and Houston's 39 percent, for example but they're not engaged in a massive, subsidized-building initiative. De Blasio's counterpart in Chicago, Democrat Rahm Emanuel, has pursued efforts to improve the education and skill levels of the poor—which would increase their incomes and enable them to afford better housing.
But the de Blasio administration sees social injustice in the possibility that luxury-apartment dwellers could insulate themselves from those of modest means. It's no surprise that the mayor would embrace the inclusionary zoning voluntarily adopted by the Bloomberg administration—especially when private developers are taking advantage of hot markets "upzoned" to permit higher and denser development. Among other requirements, inclusionary zoning mandates that affordable apartments be located on at least 65 percent of a building's floors. The system remains voluntary: currently, developers can build without these restrictions, but major developments implementing inclusionary zoning have been completed or are in the works on the west side of lower Manhattan and in northern Brooklyn—such as the Edge in Williamsburg, with 347 affordable units in a 1,000-unit project. De Blasio, urged on by activist city council members like Brad Lander—who holds the mayor's old Brooklyn seat—might make an inclusionary plan mandatory for these areas.
This kind of an approach would likely prove counterproductive. Some developers liken the inclusionary policy to extortion. Others suggest that an inclusionary mandate could lead them to forego investing in the city. "Capital is mobile," says one, with long experience in subsidized development. "It can go to Miami instead."
That was the same conclusion NYU's Furman Center reached last year, when its director was Vicki Been, whom de Blasio has since named to head the city's Department of Housing Preservation and Development, which issues the inclusionary permits. A Furman paper observed that "mandatory inclusionary zoning" might "render potential projects less profitable or completely unprofitable," such that "the development would not be built at all." Furman also suggested that developers might "try to pass the added costs on to market-rate tenants and buyers if the market allows it." In this view, inclusionary zoning could lead to higher overall rents, fueling a need for yet more affordable housing, with the city effectively chasing its own tail.
The plan has other drawbacks. Income guidelines for inclusionary projects permit households earning up to 80 percent of median income to qualify—meaning that many not facing a "rent burden" will enjoy the benefit of below-market prices. Graduate students and others with high future earnings prospects might also qualify, with no requirement that they move out if their incomes increase.
These shortcomings may not matter to the de Blasio administration for reasons unrelated to housing policy. For one thing, given his well-chronicled statements about income inequality, de Blasio may regard inclusionary zoning as an anti-gentrification measure as much as a low-priced housing scheme. For another, the inclusionary program has political uses. All low-income housing falling under the inclusionary mandate must be marketed not by the developer, but by a so-called "administering agent"—a nonprofit group approved by the city. Such nonprofits have enjoyed lucrative per-unit payments under similar circumstances in the past; they could serve as a means to reward de Blasio's political allies.
If Mayor de Blasio really wants to increase the supply of low-income—and low-cost—housing in New York City, there are ways to do so consistent with his principles and goals.
Though vilified by city council members (and de Blasio) when proposed last year, the Bloomberg administration's so-called "land-lease" plan—which would let the New York City Housing Authority (NYCHA) sell or lease its vacant land to private-sector builders—could advance de Blasio's housing aims and also improve the city's troubled public housing system. NYCHA has two big problems. First, it's in desperate need of funds for repairs. The city estimates its vast deferred-maintenance bill for the next five years at $13 billion; federal aid barely helps it keep up with day-to-day expenses. Second, NYCHA has, by conservative estimate, at least 11,400 "extremely under-occupied" apartments—mainly inhabited by elderly tenants.
Building on empty land—which the city already owns—can help address both problems. Builders would construct mostly market-rate housing, but they could set aside a portion of the new housing as smaller dwellings for "over-housed" elderly tenants. NYCHA could also use lease payments from the private-sector developments to invest in its aging public-housing stock. If anything, the de Blasio administration should expand new building beyond the 14 Manhattan sites, from the Lower East Side to Harlem, identified in Bloomberg's original proposal. Some 334 NYCHA developments exist in all, many in neighborhoods that have lately become more desirable. Taking this approach would also result in a modicum of economic integration.
Building on empty public housing land won't yield the additional 200,000 units of affordable housing that de Blasio desires, but legalizing so-called "accessory apartments" could. The idea has long enjoyed the support of leading city council progressives (notably Lander, now deputy leader for policy and dubbed the "shadow speaker"). A 2008 study by the Pratt Center for Community Development (then headed by Lander) and the Chhaya Community Development Corporation, a South Asian group in Jackson Heights, estimated that between 1990 and 2000, the city added some 114,000 informal accessory units, most often in basement apartments in one- and two-family homes and row houses in immigrant neighborhoods in Queens, Brooklyn, and the Bronx. These units' formal code violations are often minor— below-grade windows, for example, which don't let in the requisite amount of light. Others are more serious: lacking two exits, say. But they are, without doubt, affordable dwellings. Chhaya's Drew Goldsman estimates that two-bedroom units would rent for $900 and three-bedroom units for $1,200, and that renovations to make them safe would cost less than $30,000. Lander sees them as low-cost versions of the "micro-units" that the Bloomberg administration promoted in Manhattan and believes that their legalization, with agreed-upon safety improvements, could facilitate the upward mobility of immigrant homeowners. The value of these properties will rise when the units are formalized.
By now, the number of accessory apartments may be far greater than what Pratt found in 2008. Encouraging their legalization could lead to still more conversions. It would be a policy in the venerable New York tradition, providing owners and tenants alike a vehicle for moving up the economic ladder. De Blasio could get pushback from residents in some coastal and low-lying neighborhoods (notably the Rockaways) worried about basement flooding in the event of another Superstorm Sandy. Some neighborhoods may not be thrilled about immigrant newcomers crowding together. But the mayor, who has said that he will "use height and density to the maximum feasible extent," may find that two-family homes in the outer boroughs give him the best chance of meeting his 200,000-unit goal.
If de Blasio insists on extracting tribute from large developers, he should let them contribute to a fund that might aid those outer-borough homeowners—or ask (perhaps even require) them to build large projects on less expensive land. This policy, called "linkage" and used by other cities, notably Boston, would make it possible for builders to construct more affordable units outside of expensive Manhattan and northern Brooklyn. Here, De Blasio might emulate the Salvation Army and the Children's Aid Society, both of which recently announced plans to sell expensive Manhattan real estate and move to less pricey locations. Both organizations will use the profits from such sales to help finance their good works. Of course, the equivalent approach to housing policy would require de-emphasizing economic integration in favor of aiding neighborhoods filled with strivers of modest means.
Democrats profess to care about these people. We'll find out on May 1 what Bill de Blasio really cares about.